"This book provides the escalator to lift you away from
pain, anger, confusion and alienation."
~ Amy Schaefer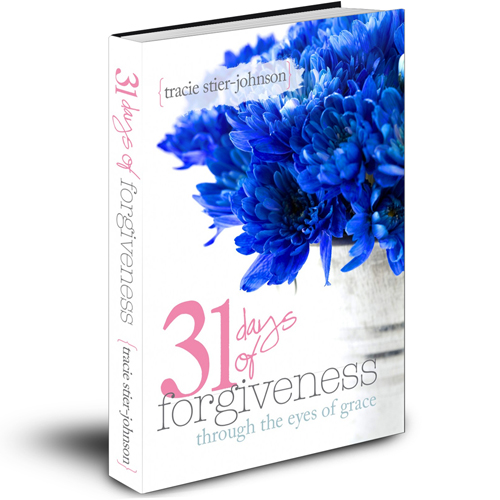 Just $3.99 {e-version} or $7.99 {print}
Both an electronic version or paperback version are available through Amazon.
A PDF and an e-book for the Nook will be available mid-May.
Don't have a Kindle? No worries, download
Amazon's free Kindle reading app and you can begin
reading on almost any device you own … including your computer!
######
All proceeds of 31 Days of Forgiveness will go directly to The Seed Company. Today, nearly one-third of the world's language groups, representing 350 million people, are still waiting for God's Word in a language they can understand clearly.
The Seed Company enables you to support local Bible translators as they make God's message available in the language of their people.
What people are saying:

"Our problem in today's age is not that we need to amass more information; but rather that we apply what we already know. Tracie takes a trait that should be part of the foundation of our lives and weaves God's word and practical applications to help us adopt the habit of forgiveness. A radical habit. A habit we know we should be exercising, but perhaps aren't actively pursuing. Her words are gracious and challenging and life changing." Jessica Morris

"I found myself nodding and saying 'yes' and 'amen!' throughout this book!  Through Tracie's Spirit led words, I was forever changed when the Holy Spirit brought things to mind that I haven't thought of in years.  This book will open up your eyes, change your heart, and forever change your life through the power of forgiveness…a process we too often misunderstand." Cat Moore

"Of all the subjects I was most afraid to explore, Forgiveness topped the list.  Why should I learn how to forgive people who had legitimately wronged me?  Imagine my surprise to learn that Forgiveness is a gift to myself first.  Tracie does a thorough and compassionate job of helping you understand why we are compelled to forgive and what the true benefits are in doing so!  I'm so grateful to have read this book!" Su Rankin

"31 days of Forgiveness is a very solid biblical guide to overcoming unforgiveness. I love that it hits so hard on the necessity of forgiveness for our success in walking victoriously with Christ! Such a timely word in a world full of hurting people!" Katie Ramirez

"I didn't realize I was holding on to 'unforgiveness', but as I worked my way through this book, one day at a time, it became clear that I needed to let go of those grudges I wasn't even aware I was holding.  I now view my relationships with others in a new light, and I pray that they too will come to find the comfort I have discovered through truly forgiving." Misty Thieman